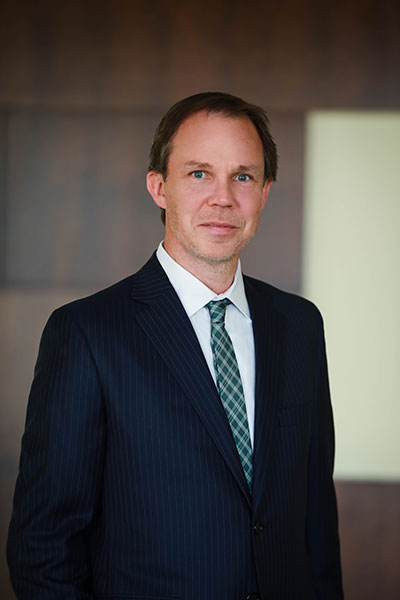 J. Scott Andresen
Partner
Practice Groups
Commercial and Catastrophic Loss Litigation,
Construction Litigation
Overview
Education & Admissions
Professional & Civic
Accolades
Publications
Seminars
Overview
Scott has more than 20 years experience as a collaborative, results-driven advocate for clients in construction and commercial matters.  He has represented owners and contractors in nearly every aspect of the construction arena. He has obtained successful jury verdicts and arbitration awards for clients in more than two dozen cases, including building design and defect claims, mechanic's lien and other payment disputes, delay and disruption claims, and material warranty actions.
Scott is regularly asked to serve as a mediator in construction cases and to testify on construction law matters at the Minnesota State Legislature.
In addition to his construction practice, Scott represents businesses and individuals in complex commercial disputes, including contract litigation, fiduciary duty claims, and fraudulent transfer actions.  He has also handled several class-action and multi-district tort claims.
Scott is a Charter Fellow of the Construction Lawyers Society of America and the current Chair of the MSBA Construction Law Section.  He is recognized by the international research firm Chambers and Partners as a top construction lawyer and was named the 2022 Minneapolis Construction Lawyer of the Year by The Best Lawyers in America.  Scott has also been named to the Minnesota Super Lawyers list since 2013 and has been a Benchmark Local Litigation Star since 2016.
Education & Admissions
Education
Southern Illinois University School of Law, J.D., magna cum laude, 1999

Southern Illinois University Law Journal, editor and member

University of Minnesota, B.A., 1996
Bar Admissions
U.S. Court of Appeals, Eighth Circuit
U.S. District Court, District of Minnesota
U.S. District Court, Eastern District of Wisconsin
U.S. District Court, Western District of Wisconsin
Minnesota
Wisconsin
Professional & Civic
Professional Achievements
Douglas K. Amdahl Inn of Court, Master
Construction Lawyers Society of America, Fellow
Bar Associations
Minnesota State Bar Association

Construction Law Section Council

Treasurer, 2020-present
Legislative Committee, Co-Chair, 2015-present

State Bar of Wisconsin
Hennepin County Bar Association
Professional Associations
Associated General Contractors of Minnesota
Minneapolis Downtown Council

2025 Development Committee, member, 2015-present
Housing Options Coalition, Co-Chair, 2015-present

Minnesota Defense Lawyers Association
Civic Involvement
Volunteer Lawyers Network, 2006-present
Highland Baseball, Commissioner and Coach
Accolades
Honors & Awards
Ranked Lawyer, Chambers and Partners, Construction, 2020-present
Recognized Practitioner, Chambers and Partners, Construction, 2019-2020
Best Lawyers, Minneapolis Construction Law Lawyer of the Year, 2022
The Best Lawyers in America, Construction Law, 2019-present; Construction Litigation, 2020-present; Commercial Litigation, 2021-present
POWER 30: Real Estate and Construction Law, Minnesota Lawyer, 2021
Up-and-Coming Attorney, Minnesota Lawyer, 2004
Minneapolis Downtown Council 2025 Plan Leadership Award as Co-Chair of the Housing Options Coalition, 2017
Minnesota Super Lawyers Top 100 list, Super Lawyers, 2015-2017
Minnesota Super Lawyers list, Super Lawyers, 2013-present
Minnesota Rising Stars list, Super Lawyers, 2002, 2004–2008, 2011–2012
Local Litigation Star, Benchmark Litigation, 2016-present
Future Star, Benchmark Litigation, 2015-2016
Construction Lawyers Society of America, Charter Fellow
Rated AV Preeminent® by Martindale-Hubbell®
Publications
Seminars
Annual Legislative Update, presenter, Minnesota State Bar Association, Construction Law Section, October 21, 2021
Construction Acceleration and Delay Claims are Speeding Up, presenter, Construction Lawyers Society of America, Colorado Springs, Colo., September 13, 2019
Member Forum | Downtown Residential Development, presenter, Minneapolis Downtown Council, October 11, 2018
The Effects of Condo Litigation and Proposed Legislative Reform, presenter, Minnesota Real Estate Journal Condominium & Townhome Development Summit, February 25, 2017
MSBA Construction Law Section's Annual Legislative Update, presenter, Minnesota State Bar Association, Construction Law Section, October 14, 2016
The Effects of Condo Litigation and Proposed Legislative Reform, presenter, Condominium and Townhome Development Summit, Minnesota Real Estate Journal, February 25, 2016
Condo Reform, presenter, Regional Council of Mayors Meeting, Urban Land Institute, Minneapolis, Minnesota, July 13, 2015
Creative Settlements in Construction Disputes, presenter, Minnesota State Bar Association, Construction Law Section, March 13, 2015
Cedar Bluff v. American Family Mutual Insurance Company – A Discussion of the Issues, co-presenter, MDLA Insurance Law Committee and MDLA Construction Law Committee, March 10, 2015
Construction Law for the Non-Specialist, presenter, 2014 Real Estate Institute, November 13, 2014
Indemnification, presenter, Associated General Contractors of Minnesota, Annual Meeting, November 20, 2013
The New Law and New Debate for Contractual Indemnity Cases; A Discussion of Bolduc, United Prairie, and Amendments to Minn. Stat. § 337.05, presenter, Minnesota CLE, September 24, 2013
Amendments to Minn. Stat. 337.05, presenter, Minnesota Defense Lawyers Association, September 10, 2013
Two Timely Legal Topics for Contractors and Developers: The Indemnity Law and Minimizing Condo Litigation, presenter, Real Estate and Construction Contractors Summit, Minnesota Real Estate Journal, September 6, 2013
Is There a New Normal in Contractual Indemnity Cases?, presenter, Minnesota Defense Lawyers Association, Trial Techniques Seminar, August 23, 2013
Free Legal Advice on Common Construction Issues, presenter, Maxxon Corporation, June 4, 2013
Securing Your Legal Interests and Reducing Your Overall Risk, presenter, Real Estate and Construction Contractors Summit, Minnesota Real Estate Journal, September 7, 2012
Risk Shifting in Construction Contracts, presenter, Real Estate Convenience Series, Minnesota State Bar Association, May 15, 2012
A Primer on Mechanic's Liens in Minnesota, presenter, Forius, Business Credit Resources, Golden Valley, MN, April 21, 2011
Persons Entitled to and Property Subject to Mechanics' Liens, presenter, A Comprehensive Guide to Mechanics' Liens in Minnesota Seminar, Minnesota State Bar Association, September 22, 2009
Condo Conversions and Cooperatives, presenter, Timely Topics in Construction Litigation Seminar, Minnesota State Bar Association, June 10, 2009
Persons Entitled to and Property Subject to Mechanics' Liens, presenter, A Comprehensive Guide to Mechanics' Liens in Minnesota Seminar, Minnesota State Bar Association, October 15, 2008
Strategies for Bringing or Defending Condominium or Townhouse Claims, co-chair, Residential Construction Law Seminar, Minnesota State Bar Association, March 12, 2008
Anatomy of a 2007 Residential Construction Defect Case Seminar, co-chair, Minnesota CLE, May 23, 2007
Sources of Recovery, presenter, Anatomy of a 2007 Residential Construction Defect Case Seminar, Minnesota CLE, May 23, 2007
Finding Insurance Coverage for Construction Defects: Understanding Wooddale Builders v. Maryland Casualty, presenter, Minnesota State Bar Association, Construction Law Section, December 8, 2006
The Implications of Contractor Dissolution After Camacho, presenter, Residential Construction Defect Claims Seminar, Minnesota State Bar Association, May 10, 2006
Appearing as a Witness in a Civil Case: The Basics for Architects and Engineers, presenter, Legal Issues for Minnesota Design Professionals Seminar, HalfMoon LLC, May 4, 2006
Economic Loss Doctrine, presenter, Minnesota State Bar Association, Construction Law Section, April 28, 2006
Common Issues in Construction Defect/Water Intrusion Claims, presenter, CPCU Society Symposium, April 19, 2006
Mold and Water Intrusion, A Comprehensive Overview of Litigation and Claims in Minnesota, seminar co-chair, Minnesota State Bar Association, December 6, 2005
General Overview of Mold Litigation and the Future of Mold Claims, presenter, Minnesota State Bar Association, December 6, 2005
Construction Defect Claims – The Plaintiff's Perspective, presenter, Minnesota State Bar Association, December 6, 2005
Residential Construction Defect Claims, seminar co-chair, Minnesota State Bar Association, May 23, 2005
Negotiating and Drafting the Settlement Agreement, presenter, Minnesota State Bar Association, May 23, 2005
Residential Construction Defect Claims – Plaintiff's Perspective, presenter, Minnesota State Bar Association, May 24, 2004
Mold Litigation in Minnesota, presenter, Lorman Education Services, March 26, 2003
Mold - Why Mold? Why Now?, presenter, Minnesota State Bar Association, November 21 and 22, 2002

The 2002 Real Estate Convenience Series, presenter, Minnesota State Bar Association, June 13, 2002
Solving Water Intrusion and Mold Problems, presenter, Lorman Education Services, April 24, 2002